NPIV stands for N-Port ID Virtualization. NPIV allows multiple initiators to logged in to the same physical target port. This feature is most useful in the SAN network where ESX Host, Blade Server, and UCS deployment.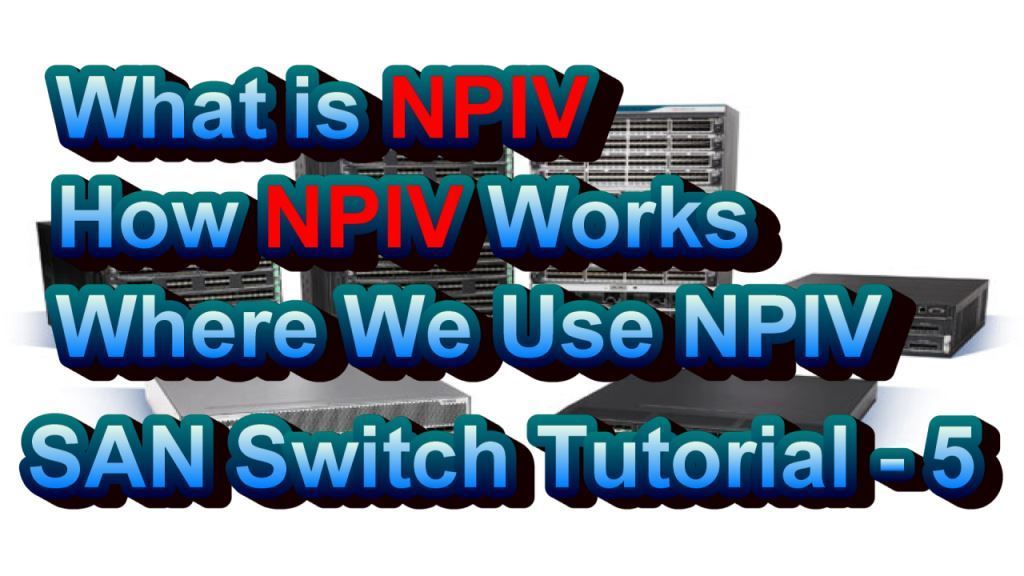 How NPIV Works In SAN Switch
In order to understand how NPIV works in SAN switch, Let us understand whats happens when we connect a cable between server HBA and a SAN switch.
In the usual case, one initiator or host is connected to a single port of the SAN switch. During the FLOGI process, the switch assigns an FCID to the initiator and the initiator is registered to switch port.
The below diagram shows the simple connectivity of two servers to the SAN switch. Here two ports from the server connect to the switch via two ports.
Now in the case of NPIV, multiple initiators try to log in to the same single physical port of SAN switch. If the SAN switch port is NPIV enabled then switch port accepts the request from each initiator. Then the switch assigns an FCID to each initiator.
Once all the initiator receives an FCID all of them are logged to the same physical port.
The below diagram explains the connectivity and how N-Port ID Virtualization works in the SAN switch network. Here the compute-system is similar to blade server of ESX host that has single physical HBA.
The HBA port connects to a single SAN switch port. In the back-end, the computing system has multiple nodes that share the same common physical HBA.
During the FLOGI Process, each virtual WWPN sends a request to the same SAN switch port. Now, if the SAN switch port is NPIV enabled it accepts all request and assign an FCID to the initiator. This way multiple initiators logged in the same SAN switch port.
Where We Use NPIV In SAN switch?
There are various uses of NPIV in the SAN network but below are the most common use of this feature.
1. ESX UCS Deployment
If your environment has ESX, UCS, or Blade Server Deployment then definitely your need N-Port ID Virtualization.
2. Masking Of LUNs to VM
The second common use of NPIV is that it allows masking of LUN to individuals VMs. It means if you have multiple VMs in ESX host then you can do zoning between the VMs and Storage array. Then you can share LUNs to a particular VM.
3. Reduce Messy Cable Connection
A third common use is that it reduces the messy cable connectivity of the SAN switch network. N-Port ID Virtualization reduces the number of cable connections between the server and switches the physical management of Datacenter make simpler.