In this blog, we will discuss some of the most common interview questions for storage admin. In my opinion and experience, these interview questions are very common.
I have taken and given more than 30 interviews in my storage administrator career. Hence, I strongly recommend preparing these interview questions before attending an interview for a storage admin.
Some expert says that you have to give your best during the interview. I strongly beg to differ there. Your interview process starts the moment you decided to switch company. You must research the Job Profile and the possible interview question and its answer.
EMC Isilon Interview questions.
You should not only get the answer but you need to wake up your inside actor and rehearsal the answer as well.
Below are the most common interview questions for a storage admin job that you must prepare before attending any interview.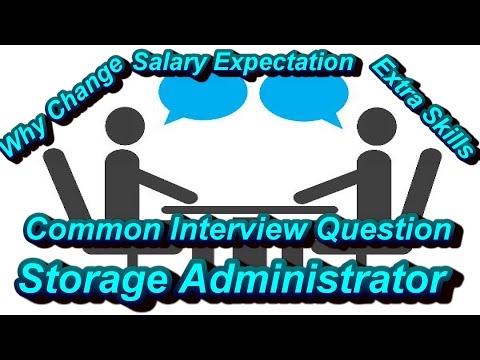 Common Interview Questions For Storage Admin
If you would like to listen to the answers then you can watch below youtube videos. Along with answers, you can get extra tips for cracking storage interview.
Question 1: Tell Me about yourself?
This question is a very common and important interview question but the answer to this question will decide how the entire interview will go. Based on your answer only, the interview panel generates the next set of questions. So take your time and prepare a good answer. Below are some points which may help you.
Speak for at least two minutes unless the panel stops you. Try to segment your roles into the various sections. Such as what you have done during your initial days and for how many years. Then mention your new role.
Don't forget to add that the new role was assigned based on your good performance. If you are fresher along with your day to day operation mention what high-level of activity you have done.
If you have experience with many companies then divide your answer based on roles assigned to you in each of the companies. Finally, Conclude your statement by saying what is your current roles and responsibility.
Question 2: Why You Are Looking For Change?
This interview question for storage admin is tricky because both interview panels and know the answer. Yes, its because you need a salary hike. For this question never apply the proverb honesty is not the best policy. Below are some points that may help you to build the answer for it.
Try to answer in a diplomatic way. Think of an answer that shows your positive attitude. Your answer must indicate your learning attitude as well. Do not complain about your current company, package or about your manager no matter how frustrated you are with them.
Some possible answers may be that your current project's contract is going to over. As a result, you will be on the bench for an uncertain period. You can mention that you do not like to be on the bench. Hence you are looking for a change.
Another possible answer is that your project does not have much scope in the technical field and you want to pursue your career in the technical aspect.
Question 3: What Is Your Salary Expectation?
  Yes, I agree that this interview question can make your dream true where the money is falling from the sky and you are the only one to take all of it. But wake up from the dream, take a breath and start answering in such a way that the interview panel should feel money is not the only thing you are looking for this job.
Below are the points which may help you to prepare an answer.
 Research about the package for your level of experience from various sources. Then decide the best package that you can get it from the company.
Do not say a specific number always say salary expectation in range. For example 10.5 to 11L so that there will always be room for negotiation.
Conclude your statement by mentioning that the salary expectation is negotiable.  A possible answer is that I have read the job profile and I feel, I am suitable for this requirement. Additionally, based on my technical expertise I feel XX-YY Lakhs will be an undeniable offer for this job.
Question 4: What Are The Storage Technology You Have Worked On?
  The main purpose of this question is to know how technically strong you are in storage. So you need to mention all the storage technology that you have work worked on.
You should not mention the storage technology that you have only heard of. You should mention the technology for which you have hands-on experience.  Try to answer it in a hierarchy way starting with the most generalized field.
For Example SAN or NAS. Then mention the various vendor and the respective storage frame. Mention those storage frames for which you have hands-on experience. If you have any extra skills apart from SAN and NAS then mention it as well for example scripting.
If you are learning a new technology then mention it in your concluding statement.  
Possible Answer: I do have knowledge on both SAN and NAS Technology Under SAN I have knowledge on EMC VNX and VMAX. I do have experience with HP products like HPEVA, HP3PAR. I also have experience in Brocade and Cisco Switches.
Most asked Brocade SAN switch interview questions.
Once you complete the SAN part then jump to the NAS part and mention the storage frame for which you have hands-on experience. 
Question 5: Have You Worked On Any Major Incident
  The main purpose of the question is to know how capable you are in handling major incidents. If you have not faced any major incident do not say simply No. Just think of a storage issue for which you have worked on from end to end and then convert that experience into an answer.
Question 6: What Extra Value You Can Add To Company
  This is the question where you can mention your extra skills. You should mention those skills only if they are related to the storage admin job profile.  
Mention about the extra skills that you have which were not there in the job description. Don't say about skills that are not related to the job position. If you don't have any extra skills then mention you are planning to learn something new. Try to say about the technology which is trending. E.g. Scripting and Automation.
Question 7: Do You Have Any Question For Us?
  The answer to this question will help you to give an indication to the panel how much you are interested in this job. You should not skip this question you must think of a question to ask the interview panel.  
If you don't have any questions to ask don't say simply no. Mention them that you have already researched the profile and company and all your doubts were clarified.
You can ask any technical question which you were unable to answer. If the panel answers your question then don't forget to say thank you.
Conclusion Interview Questions For Storage Admin
This concludes the blog on the most common interview questions for storage admin. If you have a different answer then what is mentioned in this blog then please share it in the comment section.
Share this blog with your friends and colleagues who are looking for a change and do not forget to Subscribe to our YouTube Channel.